CHRISTMAS TREE BUYER'S GUIDE
Everything you need to help you find your perfect Christmas Tree
With so many places to buy artificial Christmas trees, it can be challenging to find the best tree for you. This guide will help you through the buying process, so that you can find a tree that you will be proud to display year after year.
1. FIND THE RIGHT ARTIFICIAL CHRISTMAS TREE SIZE
Before buying a Christmas tree, you should decide where you want to display the tree. Which room will it be in? Is it intended to be the centrepiece of a room? Or, is it a second tree that will go in a family room or guest room? Will you put it in a corner, along a specific wall or next to a doorway?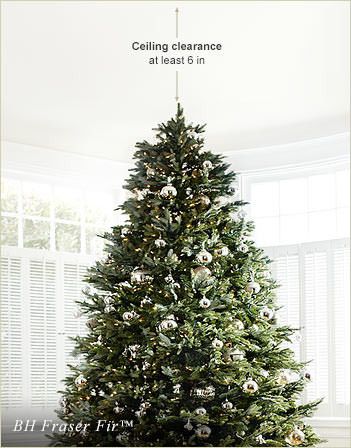 Now that you've determined the location for your tree, how much space are you looking to fill? This will help you determine the ideal Christmas tree height for you. If you want the tallest Christmas tree your room will allow, we recommend buying a tree that is at least six inches lower than your ceiling height. For example, if you have a standard 8-9 foot ceiling, you should buy a 7½ foot tree. This will allow some clearance to ensure that the tip of your Christmas tree will not hug your ceiling and will allow space for a tree topper.
In terms of floor space, measure the approximate diameter of the space you plan to reserve for the Christmas tree. As you shop for a Christmas tree, look for the varieties that will fill your space. The standard tree shape is "full"; trees that fit in tighter spaces are often designated with names such as "narrow" and "slim." However, we suggest that you consider the diameter of the Christmas tree, not the shape name, to help you pick your perfect tree. This measurement is taken at the very widest point of the tree; if you plan to have a few branches touching a wall or a piece of furniture, the true space occupied by the tree will be about six inches less than the stated diameter. The other key is to make sure that the tree looks to be a natural shape — if it is "pencil shaped," it probably doesn't look like a real tree. (If you are looking for a space saving tree, we recommend our Kensington Flatback, which is designed to look like a full tree while only taking up half the space.)
2. IDENTIFY A HIGH QUALITY ARTIFICIAL CHRISTMAS TREE
How long do you expect to keep the tree?
One of the major benefits of buying an artificial tree is that it can become a long-term investment. As long as you plan on keeping the tree for more than one Christmas season, we recommend buying a high quality artificial Christmas tree.
A high quality artificial tree should have foliage that resembles a real Christmas tree, often determined by the quantity of the branch "tips" and the design of the foliage.
In most cases, having more branch "tips" is preferred because an abundance of needles creates a full look for the tree. However, if the Christmas tree is designed with the intention of seeing the inside of the tree (e.g., it has a faux trunk), that Christmas tree should have fewer tips than a comparable tree designed to hide the centre pole. Also, if an artificial Christmas tree has long needles, fewer tips are used to prevent the tree from looking like an overgrown bush. Since it is virtually impossible to compare specific trees across manufacturers, when buying a tree online, we recommend looking at a close-up photo of the whole tree to see if it looks good. Especially for artificial Christmas trees that are described to look "full", look closely to see if you can see the centre pole of the tree — if so, that is a clear warning that it is a very low-quality tree.
Additionally, high quality trees should come with sturdy metal stands. Avoid plastic stands or poorly constructed metal stands. A strong stand will ensure that your Chrismas tree will not topple or lean to one side, even if heavy baubles and tree decorations are added to the tree. Some tree stands, like the ones offered with Balsam Hill™ trees, come with rubber feet to protect your floors.
Finally, all of the finest artificial Christmas trees should have hinged branches to keep set-up simple. Unlike "hooked" branches where each individual branch needs to be hooked to the centre pole, hinged branches are pre-attached to the centre pole. During set-up, you simply pull down the branches that open like the tail of a peacock.
3. IDENTIFY A HIGH QUALITY ARTIFICIAL CHRISTMAS TREE
What will my Christmas tree foliage look like?
Many brands of artificial Christmas trees offer different types of foliage options in their trees that are made from either PVC or PE materials. While some trees use one type of foliage exclusively, others may use a mix of foliage types to achieve a particular look. Usually, you can find out what foliage is being used by reading the description of each tree.
Regardless of the type of foliage or type of tree you prefer, when buying a tree online, we recommend that you look carefully at the photographs of the trees you are considering. At Balsam Hill™, we always provide "super zoom" photos of the complete trees so you can look at the detail of our quality and craftsmanship. If you are considering an artificial Christmas tree from another source, make sure you can view a high-resolution photograph of the tree to gauge quality. Many Christmas trees look great at low resolution but do not look as good when you see them up-close and in-person.
Balsam Hill™ offers three types of foliage: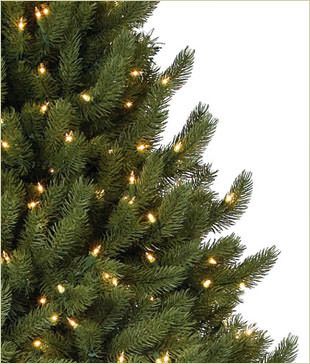 True Needle™
Exclusive to Balsam Hill™, ultrarealistic True Needle™ evergreen foliage is created with injection-moulded PE plastic and several different colours of pigment to mimic the structure, texture and colour of natural evergreen needles. It is simply the best method for creating lifelike artificial evergreen foliage. A unique feature of True Needle™ foliage is the colour variations within the branches. For example, the branch might be a brown/green while the needles start off a dark green and slowly fade to a lighter green.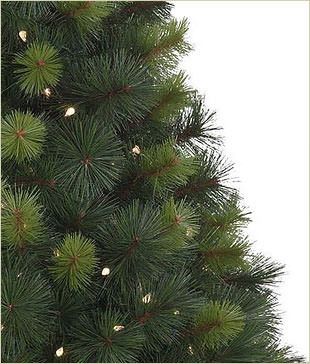 Pine Needle
The PVC pine needles used by Balsam Hill™ are extruded to mimic the size and texture of long, thin needles of a pine tree. These needles even have the texture of real pine needles: if you roll them between your thumb and finger, you will feel the ridges.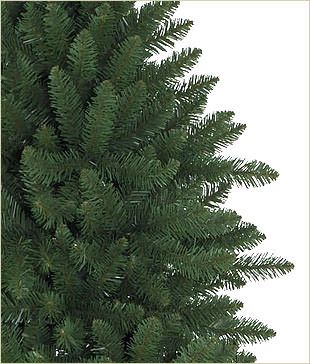 Classic Needle
Classic needles are made from thin sheets of PVC that are cut into fine strands to resemble evergreen needles. Balsam Hill™ uses these resilient, flexible needles as the primary foliage of many Traditional trees and a few trees in the Signature Collections. It is also used as filler for most other Christmas trees because of its superior ability to block light and create a "full" look for the tree.
4. FIND HIGH-QUALITY CHRISTMAS LIGHTS
How Should I Choose Between Unlit and Pre-lit Christmas Trees?
The choice between unlit and prelit artificial Christmas trees is a matter of style and convenience.
Unlit Christmas trees are great for people who love the classic way of decorating. By allowing room for creativity, unlit trees let you hang your Christmas lights in your own unique way and match your favourite colour of lights with your style of decoration.
Prelit Christmas trees, on the other hand, are perfect for homeowners who prefer the faster process of setting up. With prelit artificial trees, there is very little chance of cords getting tangled up, or people tripping over wires.
Experts at Balsam Hill have designed trees that not only provide optimal lighting, but also keep unsightly wires hidden. All of the lights on the tree remain lit even if one of them goes out, making it easy to identify and replace burned out lights. With the professionally strung lights of Balsam Hill Christmas trees, your home will dazzle this Christmas season.
What should I look for in buying pre-lit trees?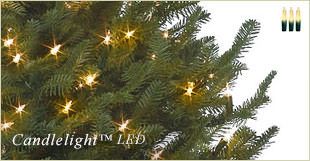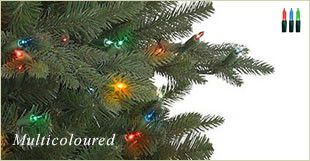 Prelit trees are now extremely popular both to save the time and hassle of stringing your own Christmas tree and because (high quality) prelit Christmas trees are professionally strung to minimize dangling wires. Most manufacturers provide a wide variety of options including clear lights , multicoloured lights, and other configurations.
If you are considering a prelit tree, once again you want to judge the quality of the lights by both the number of lights and the quality of the lights. In general, we recommend at least 100 lights per foot of the tree. For example, a 7.5 foot tree should have at least 750 lights. If you comparison shop, you will likely find that Balsam Hill™ has many more lights per foot than most other Christmas trees.
To ensure that you are getting high quality Christmas lights, make sure the lights are UL™ approved and are designed to stay lit even when one light burns out. There are several levels of quality when it comes to "when one light burns out, the rest remain lit ": the very best lights actually let you remove a bulb and the rest will stay lit. These lights are much more expensive than standard "when one bulb burns out the rest remain lit" lights, and are used very infrequently on artificial Christmas trees due to their high cost.
Of course, as you would expect, our Balsam Hill trees feature the very best lights - you may remove a bulb and the rest will stay lit. (The exception to this is that some clearance items are standard lights and all of our indoor/outdoor light items such as wreaths, garlands, and potted trees feature standard lights). Often times you can judge the quality of the lights based on the length of the warranty; just make sure that the company who is selling you the pre-lit Christmas tree is the company that backs up the warranty to avoid being passed on to a third party.
If you are considering LED lights, keep in mind that most LED lights do not emit the warm, soft glow typically associated with indoor Christmas lights. Balsam Hill™ now offers a new type of LED lights on some of its trees. These premium LEDs are available as warm-white Candlelight™ LEDs and multi-coloured LEDs, both of which provide the warm Christmas glow desired by the majority of our customers.
5. MAKE THE TREE WORK FOR YOUR DECORATIONS AND BAUBLES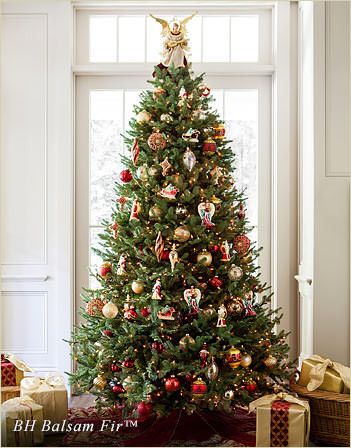 How will my decorations look on the tree?
When buying an artificial Christmas tree, consider how you plan to decorate it, including your preferred theme and existing baubles and tree decorations. The size and shape of your tree determines the type of baubles and tree decorations you can hang. Regular or full Christmas trees, such as our Vermont White Spruce and Nordmann Fir, have a lush and generous profile consisting of upward-sloping branches. These branches are more robust, making them ideal for large and heavy baubles and tree decorations. Our Silverado Slim and Cathedral Fir, on the other hand, have a sleeker silhouette to fit small spaces. These narrow and slim artificial Christmas trees feature pronged, outstretched branches that are ideal for hanging smaller and lighter baubles and tree decorations. If you are going for more of a simple look, a Christmas tree that appears "full" and has a relatively large number of tips will look better unadorned than with baubles and tree decorations.
If you would like further ideas on how to decorate your tree, visit our Pinterest page.
6. CHRISTMAS TREE STYLES, COLOURS, & OTHER CONSIDERATIONS
Eliciting memories with a tree
For many of us who love Christmas, our idea of the perfect Christmas tree is one that most resembles the tree we grew up with. However, if you are like most people, you likely cannot recall the tree variety of your youth. To help you choose, Balsam Hill® UK offers a selection of luxurious artificial Christmas trees inspired by iconic tree styles found in Continental Europe and Northern America. Native to the UK, Germany and the breathtaking mountain ranges surrounding the Black Sea, Balsam Hill's Nordmann Fir artificial Christmas tree exhibits the same rich, glossy dark green needles that have made the Abies nordmanniana so desirable as a Christmas tree. For those who fell in love with the beauty of America's Great White North, our popular Vermont White Spruce recreates the timeless elegance of the Picea glauca with its natural grass-green needles and upward-sloping branches. No matter which you choose, you are sure to have a memorable Christmas with a Balsam Hill® artificial Christmas tree.
Finding the perfect colour and look
To narrow down your choices, start with your preferred tree colour. If you favour the classic green Christmas tree, we have a wide selection of colour tones found in natural evergreens. Our St. Moritz Spruce features deep forest-green needles, while our European Silver Fir has a mixture of rich green tips and silver undersides. The Classic White Christmas Tree is perfect for a winter wonderland theme, with its pristine white foliage. Superzoom on our website photos to get a closer view of the colour and look of our trees or order the Branch Sample Kit to see a full branch sample in person.
Simple Setup
To learn more about how easy it is to set up your new Balsam Hill Christmas tree, please visit our Assembly Guide.
Receiving more guidance
We wish you a joyous Christmas season and hope that you have a rewarding shopping experience for your Christmas decorations. If we can be of further assistance in choosing your perfect tree, please contact Customer Service.