Classic Christmas decorations are timeless and add a charming touch to your front door. In this article, we'll share a few ideas on how you can use them to create a memorable first impression for guests and passers-by.
Christmas Wreaths
Artificial wreaths are classic outdoor Christmas décor pieces. You can either leave them on their own or add accents that complement your decorating theme. To create a traditional fruit-and-greenery wreath, add several dried pomegranates or berries. Another option is to attach small photos, Christmas cards, and trinkets for a more personalised theme. If you want to take out the guesswork, choose pre-decorated wreaths so you can spend more time enjoying Christmas.
Red and green are traditional Christmas colours, and you can achieve that classic look by adding baubles and other décor in these shades. Tie a crimson bow on your door wreath, place lanterns on your porch steps, or set yard decorations to complement your Christmas-themed potted arrangements.
Snow Accents
Give your classic door décor a winter wonderland feel with frosted Christmas trees and foliage. You can also hang snowflake light fixtures and pair them with white accents for consistency. To complete the look, flock your greenery with pre-made flocking or DIY artificial snow. If you want extra sparkle, consider adding clear LED lights.
Other Greenery
Aside from Christmas wreaths, you can also use other types of greenery for your Christmas door decorations.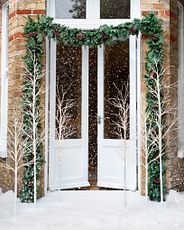 Christmas Garlands
Drape garlands over the top of the door or around the frame. Choose from different foliage to match your Christmas tree such as pine, fir, or spruce. Dress them up with baubles and nature-inspired accents or leave them undecorated for a classic look.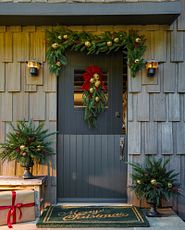 Swags
Swags are long, decorative greenery that you can use in place of wreaths. Like garlands, swags can feature a wide range of materials, including evergreen trimmings, holly, and pinecones. Another way is to add accents like seasonal flowers, ribbons, and berries.
Christmas Lights
Add some sparkle to your classic door with Christmas lights. Use them to outline the frame of the door or create a border around the door itself. You can also use them to highlight other decorations such as wreaths, garlands, and other greenery. Another option is to hang LED light wreaths and garlands for a bolder approach.
Frequently Asked Questions
Below we answer some of your commonly asked questions about Christmas door decorations.
How Can I Decorate My Door for Christmas?

A simple Christmas front door idea is to hang a wreath and garland, then complement them with light strings or seasonal accents like a wooden sledge or potted tree. You can also follow a colour palette of traditional Christmas hues such as red, green, and gold. Whichever style you choose, remember to have fun with your decorations.

What Are the Most Popular Christmas Door Decorations?

The most popular Christmas door decorations include wreaths, garlands, lights or lanterns, and other festive greenery. They're versatile and you can use them in many ways to create a cheerful welcome for your guests.

How Do You Decorate a Front Door With Christmas Lights?

Choose what type of lights you want to decorate your front door with. Whether you go for LED bulbs or incandescent ones, measure the display area next, then hang the lights on the door frame and plug them in, making sure to follow safety guidelines.
With a bit of ingenuity and creativity, you can charm your guests as you greet them or see them off in your beautiful doorway. For more style inspirations and decorating tips, request a catalogue.