A beautifully adorned front door sets the tone for the rest of your Christmas décor. After all, it's the first thing your guests will see before they enter your home. From the wreaths and garlands to the lights and accents, the pieces you choose give a glimpse of your style. In this article, we'll explore different Christmas door decorations to try this season.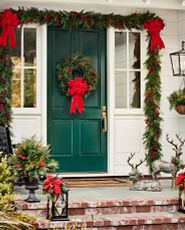 A Fresh Take on Tradition
Bring a natural touch to the classic red-and-green theme. Berries, twigs, and pinecones add texture and pops of colour to your greenery, while bright, red bows make your front door décor extra festive. Hang matching wreaths and garlands, then complete the look with hanging baskets and potted arrangements.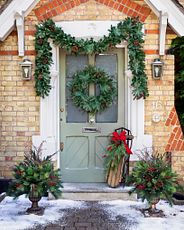 Rustic Elegance
Add rustic charm to your entryways with antique or vintage items. Old sledges, lanterns, and distressed welcome signs work well with this theme. Choose greenery with minimal baubles to stay consistent with the quaint decorating style.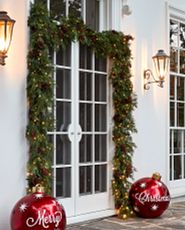 Classic Christmas
Create the quintessential Christmas welcome with traditional foliage. If you love organic elements, go for a classic look with colours and textures that appear in nature. You can also add colourful accents to create visual interest, such as oversized lawn baubles.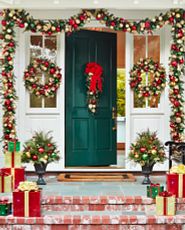 Festive Flair
Add a splash of colour to your front doors, porches, and patios. Choose greenery with red, gold, and green baubles to capture the festive spirit of the season. Complete the look with yard decorations in the same colour palette for cohesiveness.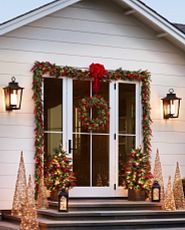 Berry-Filled Christmas
Sweeten the season with a burst of berries on your wreaths and garlands. The red and green pepperberries add pops of colour and look delightful against the cypress foliage. Display these on your windows and exterior lounge areas for a cheery atmosphere.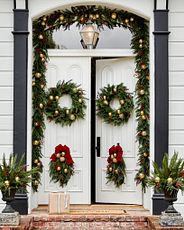 Timeless Christmas Charm
You can't go wrong with this classic colour combination. Instead of hanging just a wreath, go all out and add matching swags and garlands. Just make sure to leave enough space between each foliage to keep your door decorations from looking too crowded.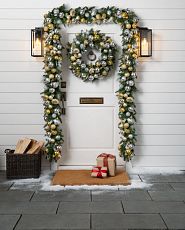 Shimmer and Sparkle
Dazzle guests with an elegant silver and gold theme. The Christmas door wreath will be your focal point, so choose one that echoes the sparkling tones of your display. Metallic baubles reflect light so make sure you have ample lighting with pre-lit potted trees or accents to add extra shimmer.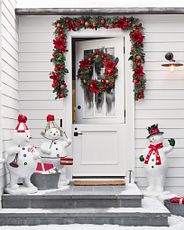 Christmas in Full Bloom
Display poinsettias in place of evergreens for your front door Christmas decorations. The vibrant red hue makes a great base for your colour palette. Choose accents in complementing colours or shades of red to stay consistent with this bold style.
Frequently Asked Questions
Below are questions and answers to the most common topics on how to decorate your front door for Christmas.
What Do You Decorate Your Door With on Christmas?

You can decorate your door with classic outdoor greenery like garlands and Christmas wreaths for the front door, topiaries, and potted trees. Another idea is to add outdoor decorations for a bit of whimsy, and Christmas lights so onlookers can appreciate your entryway Christmas décor even at night.

What Is the Meaning of a Christmas Wreath on the Door?

Rooted in the Christian tradition, the wreath is hung on the front door to invite the spirit of Christmas into the home. Like Advent wreaths, they're made from evergreen branches and trimmings, then decorated with baubles or ribbons.

How Can I Hang a Wreath on My Front Door Without Damaging It?

There are several ways to hang a wreath on doors and walls without hammering nails or drilling holes. Aside from wreath hangers, you can also use adhesive hooks, ribbons, nylon fishing lines, or craft wire.

What Types of Lights are Best for Outdoor Front Door Decorations?

Outdoor-safe Christmas lights are your best option when decorating your front door, especially if you don't have a covered porch. You can also use battery-operated lights if you don't have any outdoor outlets.
We hope these Christmas door decoration ideas inspired you to welcome your family and friends in style. Click the button below to see our full collection of Christmas greenery, decorations, and more.