Spread festive cheer through the neighbourhood with outdoor Christmas decorations. When placed outside, Christmas lights and décor will face changing weather conditions. That said, it's important to pick items that are up to the task. To get started, here are some questions to ask before you start shopping.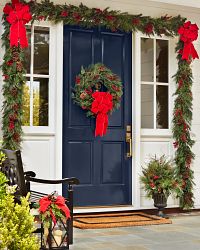 TRADITIONAL
Greet guests with the timeless charm of classic Christmas colours. For a touch of nostalgia, adorn your yard with beloved characters like Father Christmas.
FEATURED:

OUTDOOR RED BERRY PINE FOLIAGE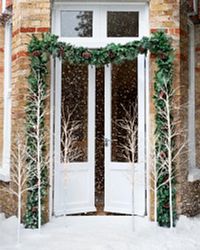 WINTER WONDERLAND
Create an elegant woodland look with frosted faux foliage and twig trees. Life-sized front door Christmas decorations would also add cheer to your winter wonderland setup.
FEATURED:

MIXED EVERGREEN WITH PINECONES FOLIAGE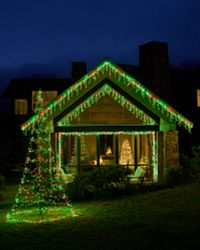 CONTEMPORARY
Bring a modern twist to your décor with unique statement pieces. Light displays are also a great option if you want to level up your landscape.
FEATURED:

TWINKLY CHRISTMAS LIGHTS
Use the same colour palette to coordinate your indoor and outdoor Christmas decorations. You can also display outdoor-safe pieces inside your home. Try hanging matching ARTIFICIAL WREATHS AND GARLANDS on your front door and above the fireplace mantel.
For more ideas, browse our CHRISTMAS DECORATING THEMES.
After choosing your theme, check your Christmas yard or garden decorations. Then, list additional items you'll need. Mixing new and existing pieces is an easy way to complete your display while staying within budget.
Size and energy efficiency are other factors that may affect your spending:
Size -

Think about how grand you want your outdoor décor to be. Budgets can be scaled up or down according to preferences and available space. If you want a sprawling display, prepare to spend more on large outdoor Christmas decorations. Stack or line up smaller pieces together to create a bigger impact.

Energy efficiency - Most outdoor Christmas lights and pre-lit décor come with either incandescent or LED bulbs. LEDs produce minimal heat and consume less energy than traditional lights, making them a safer and more cost-effective option in the long run. Some items also feature a built-in timer that automatically shuts off lights and sounds.



WHERE SHOULD YOU PLACE OUTDOOR CHRISTMAS DECORATIONS?
Maximise your space by choosing the right spots to install Christmas decorations. Identify the available areas, then take note of outdoor elements that may affect your décor.
OUTDOOR CHRISTMAS DECORATING IDEAS FOR DIFFERENT AREAS
WEATHER CONDITIONS TO CONSIDER
Sunlight and Heat – Prolonged exposure to sunlight can fade the colour of your artificial foliage and other decorations. Excessive heat and humidity may also cause discolouration of baubles and faster deterioration of lights. If possible, place your décor in covered outdoor areas to protect them from harsh UV rays.

Snowfall – Freezing temperatures may cause traditional light bulbs to burst, so it's best to limit the operating time of these lights in snow-prone areas. Consider switching to LED lights, which are cooler and more resistant to leaks. Remember to elevate small decorations to keep them from getting buried under snow.

Rainfall – Outdoor-safe lights are made to withstand light to moderate rainfall. As a precaution, switch off and unplug lighted Christmas decorations when it rains to lessen electrical risks.

Winds – Strong winds may damage your outdoor décor, so make sure to secure loose items.
ACCESSIBILITY
Finding power sources for yard decorations can be tricky. If you have a large lawn, a power stake is great for decorations mounted on the fence or in the garden area. Battery-operated or solar-powered products also come in handy to eliminate the need for electrical cords.
Check the product information online and on the packaging to determine whether decorations are designed for outdoor use. Here's how to identify outdoor-safe Christmas decorations:
1. LOOK FOR THE SAFETY LABEL
Refer to the product label to identify whether the item is made for indoor or outdoor use. It's best to choose products with UV-resistant coating to ensure their colours will remain vibrant amid sun exposure.
2. READ THE DISPLAY INSTRUCTIONS
Outside Christmas decorations can endure harsh conditions within certain limits. Check the product manual for the recommended display time. For example, outdoor-safe foliage items from Balsam Hill are best displayed for up to 3 months a year to preserve their beauty.
HOW LONG WILL OUTDOOR CHRISTMAS DECORATIONS LAST?
With proper care and storage, outdoor decorations last for years. Premium products with a lengthy warranty often last longer, ensuring that they can be enjoyed season after season.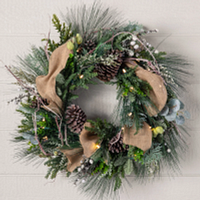 WREATHS, GARLANDS, AND FOLIAGE
The foliage on high-quality artificial wreaths and garlands can last 7 to 10 years when maintained properly. However, the lights on pre-lit models may need to be replaced based on frequency of use.
FEATURED:

OUTDOOR HOMESTEAD PINE WREATH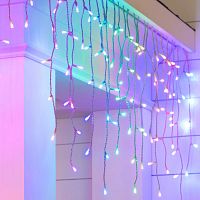 OUTDOOR CHRISTMAS LIGHTS
According to non-profit ENERGY SAVING TRUST, traditional indoor lights can last up to 2,000 hours based on 3 hours daily use. For outdoor lights, you may need to start replacing bulbs after about half that time. LED lights tend to cost more but are rated to last 10,000 hours upwards with normal use.
FEATURED:

TWINKLY LIGHT STRING
HOW TO SECURE OUTDOOR DECORATIONS
Extend the lifespan of your outdoor décor through simple weatherproofing methods. Follow our tips below.
Step 1

|

Fasten lightweight decorations.

Garden stakes help keep lightweight items from getting blown over by strong winds. Alternatively, use thin wires or chains to attach life-sized figures to sturdy objects such as trees and lampposts.

Step 2

|

Protect outdoor Christmas lights from snow and rainstorms.

When a storm is looming, switch off and unplug outdoor lighted Christmas decorations. Cover them with a tarp or durable plastic sheet. Move extension cord outlets to a higher ground to prevent water from reaching them.

Step 3

|

Check indoor electrical connections.

Rain can pose a risk even if exterior lights are plugged into indoor sockets. Check the ceilings, floors, and walls around the sockets to ensure there are no leaks or pooling water that may cause damage.
We hope this guide gave you helpful tips on how to choose and maintain your outdoor Christmas decorations. Find the perfect festive accents for your living spaces on the Balsam Hill website.
LEARN MORE
Visit the links below for more Christmas decorating guides and ideas: