Spread the cheer with a backdrop of Christmas lights throughout your home. From a lit Christmas tree in your living room to a dazzling patio display, seasonal lights add extra sparkle to make your celebrations more memorable. In this comprehensive guide, we walk you through easy tips and practical considerations on how to adorn your indoor and outdoor spaces with lights.
How To Choose Your Christmas Tree Lights
Make your home merry and bright with a glowing Christmas tree. For a seamless decorating experience, start by identifying the right Christmas lights for your space and theme. Here are our tips for choosing the perfect lights.
1. FIND THE RIGHT TYPE OF CHRISTMAS LIGHTS
Christmas lights come in a wide array of colours, sizes, and special features to suit different decorating styles. Learn more about the common light types to help narrow down your options.
INCANDESCENT VS LED CHRISTMAS LIGHTS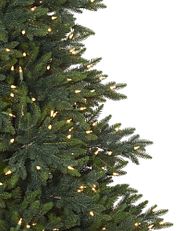 Incandescent Lights
Incandescent bulbs heat a metal filament to produce light, emitting heat in the process. Although they are available at lower prices, they tend to burn out faster over time and consume more energy than LED lights.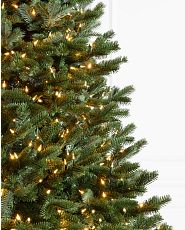 LED Christmas Lights
LED bulbs use light-emitting diodes that produce less heat and consume less energy than traditional lights. Although these usually cost more, LEDs last longer and help you save on electricity and replacement pieces. Balsam Hill's Candlelight® Clear LED lights have the same warm white Christmas light as incandescent bulbs, unlike other lights that have a harsh white tone.
CLEAR VS MULTICOLOURED LIGHTS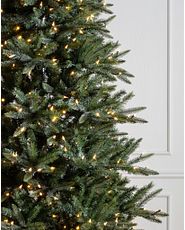 CLEAR CHRISTMAS LIGHTS
Channel the soft glow of candles with clear Christmas lights. This versatile lighting option complements any decorating style.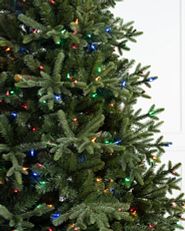 MULTICOLORED CHRISTMAS LIGHTS
Create a festive look with a bright mix of coloured Christmas lights. Multicoloured lights work well with fun themes or classic red and green baubles.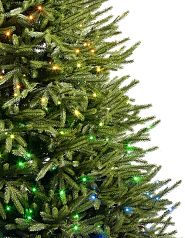 INDOOR VS OUTDOOR CHRISTMAS LIGHTS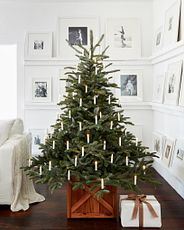 INDOOR CHRISTMAS LIGHTS
Not all Christmas lights are suitable for both indoor and outdoor use. Unless marked outdoor-safe, most lights should only be used indoors.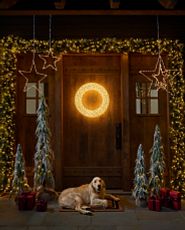 OUTDOOR LIGHTS
If you want to hang lights in exterior areas, make sure to use OUTDOOR CHRISTMAS TREE LIGHTS. As an alternative, use LED Outdoor Christmas trees with built-in light connections.
2. MEASURE YOUR HANGING SPACE
Measure the area where you plan to install the lights. Then, compare this with the length of the light strings to determine how many strands you'll need. The standard length for a 50-light strand is 25 feet, while a 100-light strand usually measures 50 feet. For example, if you need to cover a 120-feet space, you'll need at least five 50-light strands or three 100-light strands. You may need more if you're hanging the lights in a pattern.
3. CONSIDER THE SIZE OF YOUR CHRISTMAS TREE
Use the height of your tree as a guide in determining the number of bulbs you'll need. Measure the highest point of the tree down to the bottom of your stand. Note that the shape of your tree also affects the light count needed. Full Christmas trees require more bulbs compared to narrow or sparse trees of the same height.
Check out our recommended light counts for different Christmas tree heights:
| Height | Low Density | Medium Density | High Density |
| --- | --- | --- | --- |
| 6.5 feet | 325 | 650 | 975 |
| 7.5 feet | 450 | 900 | 1350 |
| 9 feet | 675 | 1350 | 2025 |
| 10 feet | 800 | 1600 | 2400 |
| 11 feet | 900 | 1800 | 2700 |
| 12 feet | 1000 | 2000 | 3000 |
How To String Christmas Lights On Your Tree
Make sure to use compatible strands with enough bulbs to meet your desired light density. Below are the materials and steps to follow when stringing lights on your tree.
MATERIALS:

Measuring tape
Step ladder
Extension cord
Step 1

|

Untangle the String Lights

Untangle the lights and test the bulbs to make sure they are in good working condition.

Step 2

|

Secure the lights

Coil the first set of lights around your hands. Avoid dragging the strings across the floor.

Step 3

|

Hang the Christmas lights

Leave enough room for the plug to reach a power source. Starting at the bottom, slowly coil the light string around the tree and weave the lights in and out of the branches.

Continue to weave the lights around your tree and move upwards. Once the lights run out, plug in the next string. Use a step ladder as you reach the higher sections. Hide the socket within the branches.

Step 5

|

Plug in the lights

Once finished, plug in the light strings and check your tree from a distance. Make adjustments so that there are no branches covering the lights.
Insider's Tip
If you're adding Christmas lights to a pre-lit tree, use a separate power source instead of connecting them to the existing lights as this will void the light warranty.
How To Re-String Lights To Your Christmas Tree
Christmas trees with lights go through normal wear and tear over time. Here's how you can troubleshoot and re-string your pre-lit tree:
Step 1

|

First, see that all light strings are connected. Check that there are no broken or burnt-out bulbs that are working properly.

Step 2

|

If your light strands still don't work, you'll need to restring your pre-lit Christmas tree.

Step 3

|

Follow the original light strand and remove each light attached to the branches, replacing them with a new one. Secure the new strings with C-clips and zip ties.

Step 4

|

Continue until you've replaced the entire section. Check your work and make sure that the wires don't slip from the branch tips.
How To Hang Christmas Outdoor Lights
Lights add an enchanting glow to exterior spaces. Wrap them around outdoor Christmas decorations, trees, or greenery, or hang them in a pattern from eaves and railings. Remember to use the proper tools and follow safety precautions for a trouble-free installation.
MATERIALS:
Measuring tape
Ladder
Extension cords
Christmas light clips and insulated hooks
Step 1

|

Untangle the lights

Untangle all your LED Christmas lights for outdoor use and lay them out on a dry surface.

Plug in your outdoor tree lights and check if the bulbs are all working.

Step 3

|

Attach the hooks

Secure the Christmas light hooks and clips in your chosen location. Spread out the hooks evenly to prevent the light strings from drooping.

Step 4

|

Hang the strings

Carefully attach the light strands using the clips or hooks. Make sure each section is free of tangles.

Step 5

|

Plug in the lights

Once the lights are in place, plug them in to ensure that the entire set-up works. Step back and check your display for any inconsistencies.
When the season is over, make sure to store your Christmas light decorations properly so you can use them for years to come. Visit this PAGE for our storage tips.
We hope this guide helped you learn new lighting ideas for your home. If you have any questions, reach out to us HERE.
LEARN MORE
For more Christmas decorating guides and ideas, visit the links below.