Winter is a magical season, but it can also feel dreary and bleak, especially when it comes to the outdoors. With the right foliage and a bit of creativity, winter greenery can add life and colour to your space during these months. In this guide, we'll share ideas on how you can transform your home into a warm and inviting retreat.
What Is Winter Greenery?
Winter greenery refers to the types of plants and foliage that remain green and vibrant throughout the winter season. These can be conifers such as fir, spruce, cypress, and cedar, as well as evergreens such as holly, boxwood, and eucalyptus. Other examples include perennials, berries, ornamental grasses, and succulents.
Real vs. Artificial Winter Greenery
You have two options when it comes to winter greenery: real and artificial. While real evergreens are undoubtedly beautiful, they can get expensive, especially if you're buying fresh materials every year. They also require more upkeep and can trigger allergies for some. Artificial winter greenery, on the other hand, is cost-effective, low-maintenance, and allergy-free. Faux greenery also comes in a wide variety of sizes, designs, and styles. From wreaths and garlands to hanging baskets and faux winter greenery for outdoor planters, you have plenty of options to choose from.
6 Ways to Decorate With Winter Greenery
Here are some decorating ideas you can try: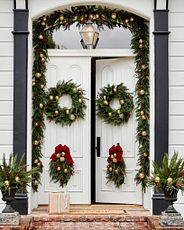 On the Front Door
Hang a matching wreath and garland to spruce up your front door. For a festive feel, choose pre-decorated winter faux greenery or leave them simple and plain for a rustic look. Add a pair of swags and potted topiaries to complete the display.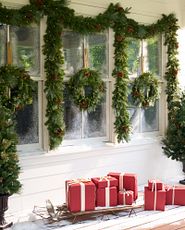 On Windows
Bring the natural beauty of the outdoors during the colder months with winter greenery garlands and wreaths on your windows. Not only can evergreen boughs create a festive atmosphere, but they can also provide insulation and help block cold drafts.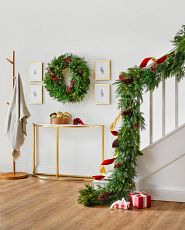 Along the Bannister
Drape a winter garland along the length of your bannister for a warm and welcoming atmosphere that your guests will love. You can use adhesive hooks, ribbons, clear zip ties, or floral wire to secure the garland in place. Hang a matching wreath above your console table to complete the look.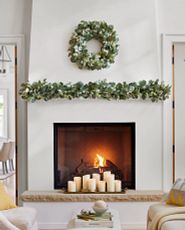 On the Mantel
The fireplace mantel is often the focal point of the living room, so decorating it with faux winter greenery is a great way to add festive cheer to the space. Keep it simple with just a wreath and garland or incorporate other winter elements like berries and pinecones.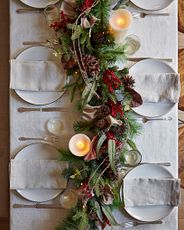 As a Table Centrepiece
Add seasonal charm to your dining table with a winter green garland centrepiece. Decorate it with pinecones and berries for texture and pops of colour, then fill in the gaps with faux pillar candles to create a warm glow for the setting.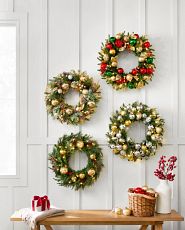 Wreath Wall
One unique winter greenery décor idea is to create a wreath wall. Choose wreaths of various sizes and designs, then hang them at different heights for a dynamic display. If you don't want to hammer in nails or drill holes, use adhesive hooks to avoid damaging your walls.
Frequently Asked Questions
Below are the answers to some of the most common questions about winter greenery.
What Decorations Are Used for Winter?

Wreaths, garlands, and swags are popular decorating items for the season. Winter foliage for wreaths and other greenery can include spruce, fir, pine, cedar, and cypress. Berries, pinecones, eucalyptus, and magnolia leaves are also often used to decorate the foliage.

What Is Considered Winter Greenery?

Plants and foliage that remain green throughout the season are considered winter greenery. These include conifers, perennials, berries, succulents, and winter-blooming flowers.

What Are the Types of Types of Winter Greenery?

The different types of winter greenery include evergreen conifers such as spruce, pine, and cedar, as well as broadleaf plants such as holly, boxwood, and magnolia. Ornamental grasses, perennials, and succulents are also some of the popular types.

How Long Does Winter Greenery Last Outside?

This depends on several factors including the type of plant, climate, and weather conditions. Conifer trees, for instance, can withstand winter weather and remain vibrant throughout the season. Some perennials such as hellebores and snowdrops may also continue to bloom and produce flowers in winter.

How Do You Preserve a Winter Greenery?

Preserve your winter greenery by storing it in a cool place, lightly misting the foliage, and keeping it away from heat and sunlight.

Where to Shop for Winter Greenery?

If you're wondering where to buy winter greenery, Balsam Hill offers a wide selection including wreaths, garlands, swags, and more. You can also browse through our collection of Christmas greenery on sale.
We hope this inspired you to decorate your home with winter greenery this season. Click the button below to see our full collection of wreaths, garlands, and more.