Hanging artificial greenery is an effortless way to spruce up your home. They bring cheer to any space and are easy to update as the seasons change. Read this guide to learn where to hang wreaths and garlands indoors and outdoors, as well as ways to refresh your display throughout the year.
BEST PLACES TO HANG WREATHS AND GARLANDS OUTDOORS
Outdoor decorations set the tone for your entire home. Create a warm and inviting look with wreaths and garlands in your al fresco areas. Before you start decorating, make sure to check if your foliage pieces are designed for indoor or outdoor use. Balsam Hill's OUTDOOR-SAFE wreaths and garlands come with UV protection to help prevent fading and keep colours bright. Here are common outdoor spots to spruce up with greenery: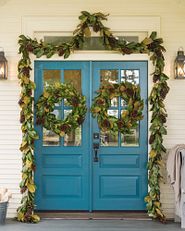 1. FRONT PORCH
Make a lasting impression with a charming wreath as your front door décor. To complete the welcoming sight, hang matching garlands over the door frame or around porch railings and columns.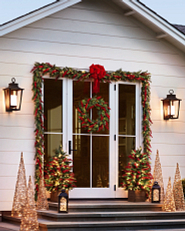 2. PATIO
Be ready to entertain guests at a moment's notice with touches of greenery in your al fresco dining and lounging areas. Opt for pre-lit wreaths and garlands to set a magical scene at night.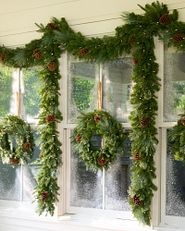 3. EXTERIOR WINDOWS
Wreaths can add interest to outside-facing windows. Place them in the centre of each window and leave at least 6 inches of space on both sides. For a dramatic effect, pick a wreath that covers the entire width of the frame.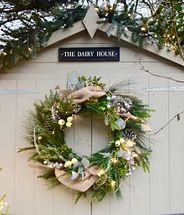 4. STORAGE SHEDS
Create a cohesive look throughout your home with outdoor-safe wreaths and garlands for storage sheds in your garden or backyard.
Insider's Tip
Keep your artificial foliage in great condition by limiting outdoor display to up to 3 months per year. Read our
guide
for more tips on how to care for faux greenery.
WHERE TO HANG WREATHS AND GARLANDS INDOORS
Extend the welcoming ambience from the outdoors to the rest of your living spaces. Artificial foliage is perfect for indoor locations since you won't need to clean up fallen needles unlike their real counterparts. Balsam Hill also offers BATTERY-OPERATED pre-lit greenery with built-in timer for added convenience.
Consider these areas when choosing where to hang wreaths and garlands indoors: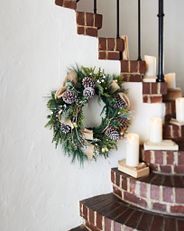 1. ENTRYWAYS
Greet visitors warmly with a wreath along your entry halls. Pick one that complements your front door décor for a cohesive style. To decorate in an instant, hang it on a coat hook or prop it up on an entryway table or rack.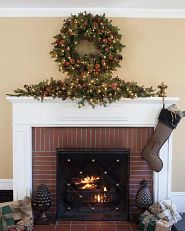 2. LIVING ROOM
The fireplace mantel is a popular spot for hanging indoor wreaths and garlands. Artificial greenery turns your mantel into the centre of interest especially as colder months draw near.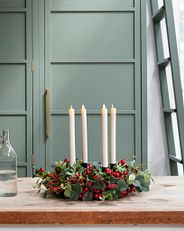 3. DINING ROOM
Elevate your tablescapes with a wreath or garland as your stunning centrepiece. Lay down a pre-lit wreath and arrange candles in the middle or set a garland along the length of your table.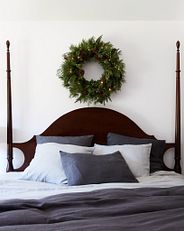 4. BEDROOM
Start and end your day with a refreshing view of evergreens. A wreath will make the perfect accent for the wall above your bed while garlands will add woodland charm to your headboard or side tables.
Insider's Tip
To get your faux greenery in the best shape, you need to fluff the branches upon unboxing. Learn how to achieve your desired fullness through our fluffing
guide.
EASY SEASONAL HOME DECORATING IDEAS TO TRY
Artificial wreaths and garlands never wilt or dry out, making them ideal for year-round decorating. With a few tweaks, these versatile pieces can work in any season and blend well with most themes. Enjoy your greenery throughout the year by following these tips on how to transition your seasonal home décor:
1. START WITH SIMPLE EVERGREENS
For a setup that's always in season, put up undecorated garlands and wreaths all year round. Their classic green branches are eye-catching whether displayed alone or with accents. To highlight their timeless elegance, string lights around your greenery or choose a pre-lit variant.
2. ADD SEASONAL ACCENTS
With undecorated greenery as your base, add decorative fruits, flowers, and other accents to refresh your home every season. Welcome spring and summer with delicate blooms then switch to fiery leaves, pumpkins, and other harvest-themed pieces during autumn. In the winter, use festive baubles and trimmings to spread Christmas cheer.
3. MIX IN THE SEASON'S COLOURS
Pair your faux greenery with accessories that echo seasonal colours. For spring, freshen up your foliage with pastel-hued ribbons or baubles. Then, move toward brighter tones as summer rolls in. To recreate autumn's beauty, choose trimmings in orange, golden yellow, or warm earth tones. Ring in Christmas with red, green, and gold, or replicate the coolness of winter with shades of white and icy blue. To pull your seasonal home décor together, use the same nature-inspired colour scheme for furnishings like pillowcases, blankets, and rugs.
4. SWITCH TO DECORATED GREENERY
Replace simple foliage with decorated Christmas greenery for a quick transition. Some wreaths and garlands include built-in decorations to help you welcome the season in style. Balsam Hill's PRE-DECORATED ARTIFICIAL GREENERY features a wide array of accents like berries, pinecones, and metallic baubles to suit different themes.
Transform your home into a charming retreat with artificial wreaths and garlands for every space. Browse Balsam Hill's selection of realistic greenery designed to last for all seasons.
LEARN MORE
For more tips on how to choose, care for, and store your artificial greenery, visit the guides below.