Well-decorated Christmas trees are the centerpiece of all holiday celebrations. Whether you're one to go all out or opt for something simpler, Balsam Hill can help bring your ideal theme to life. Here's a list of Christmas tree decoration ideas to help you create a beautiful and memorable holiday display. 
What Are the Different Christmas Tree Themes?
There are many popular themes to choose from when decorating a Christmas tree. Traditional motifs often feature classic baubles in red and green, tinsel, and angel or star tree toppers. Rustic themes use natural elements such as pinecones, burlap, and wood. Modern designs are sleek and minimalistic with metallic accents, while vintage Christmas themes incorporate old-fashioned or antique baubles.
The possibilities for Christmas decorating themes are endless and you should choose one that reflects your style and sparks your creativity. Keep reading to see Christmas tree decorating ideas imagined with some of Balsam Hill's most popular products.
Stunning Christmas Tree Ideas and Themes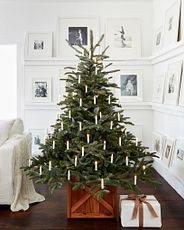 Minimalist
Make a big statement with minimal effort. Highlight the beauty of your artificial Christmas tree with little to no baubles. For a more organic feel, choose a sparse tree or one with a more rustic silhouette as your holiday centerpiece. LED Christmas tree candles complete the look.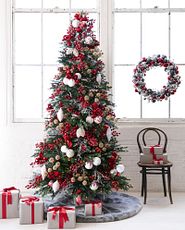 Scandinavian Splendour
Highlight the beauty of a Northern European winter with a simple yet stunning combination of silver, white, and red accents. For a unique touch, use a red berry bouquet tree topper to crown your Christmas tree.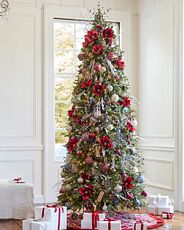 Festive Farmhouse
Farmhouse décor embraces all things warm and welcoming. Homespun baubles and vibrant greenery evoke a cozy atmosphere perfect for creating fond memories with those you hold dear.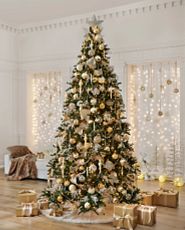 Vintage Elegance
Showcase the grandeur of the roaring '20s with a vintage Christmas theme. Glittering Christmas décor in silver and gold provide a glamorous contrast to your tree's foliage and underscores the festive feel of the season. You can also add sheer or metallic ribbons or feather picks for texture.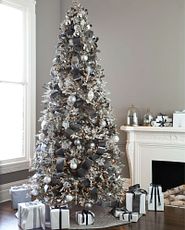 Monochromatic
Put a twist to the classic winter wonderland look with Christmas decorations featuring silver or champagne hues, with LED fairy lights to add a polished glow. Drape matching greenery over banisters and kitchen counters to spread cheer throughout your home.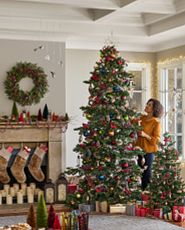 Whimsical Woodland
Enchant guests with forest-themed Christmas decorations. Hang woodland creature baubles on your tree to create a charming backdrop for your gatherings this season. A brown faux fur tree skirt completes your charming Christmas tree.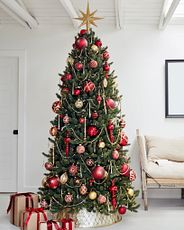 Color of the Year
What better way to stay on-trend than to deck your tree in the color of the year? Put a holiday spin on Viva Magenta with baubles and décor in bordeaux, burgundy, and a range of pink-to-wine-red hues.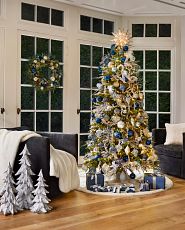 True Blue Winter
Capture the beauty of a wintry sky with a blend of deep blues and bright whites. Decorate your tree with dark blue and silver baubles to mimic a starry night, then bring the sparkle of a frosted winter forest with jeweled picks.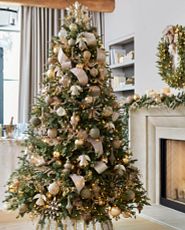 Precious Metals
Channel old-world elegance with burnished metal décor. Display antiqued pieces in gold and earthy colors to evoke timeless charm. Tie up the theme with a matching wreath and garland over your fireplace mantel.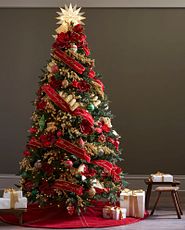 Classic Christmas
Give a nod to nostalgia with glass and glitter Christmas baubles in traditional Christmas colors, shapes, and designs. Mix and match with personalized decorations and other vintage touches for a tree that brings you back to Christmases past.
Frequently Asked Questions
Below we answer a few questions about decorating your front door and foyer for the season.
What's Trending for Christmas Tree Decorating This Year?

This year, there's continued interest in minimalist, Scandinavian-inspired, and monochromatic styles. There's also an inclination to create a warm and cozy atmosphere using mood lighting, natural textures, and traditional holiday colors and motifs.

What's the Best Way To Decorate a Christmas Tree Like a Pro?

For a Christmas tree that looks professionally decorated, make sure you have the correct amount of Christmas baubles for your tree's size. Start with larger or more eye-catching baubles and place them liberally throughout the tree. Fill in the spaces with smaller baubles, tree picks and sprays, and other complementary pieces. Another tip is to start with a pre-lit artificial Christmas tree – these already come professionally pre-strung with lights, making your tree look just like the ones you see at the store.

What Is the Most Famous Color Combination for a Christmas Tree?

The most popular Christmas color palette includes shades of red, green, gold, and silver. Use bright red and gold décor against the vibrant foliage of your Christmas tree for a classic look. Modern alternatives feature bright blue or blush pink baubles against a flocked or white Christmas tree or a fully neutral or monochromatic palette against darker greenery.

What Can I Use Instead of a Tree Skirt?

A Christmas tree skirt not only hides the legs and wiring at the base of your tree but also complements and completes your chosen décor theme. Jazz up your usual Christmas tree skirt by choosing one in a unique fabric, like faux fur or velvet. Alternatively, you can use a tree collar in a design that suits your Christmas tree motif.
We hope these themes and trends inspire you to design and decorate your most impressive Christmas display yet. Click the button below to see our full collection of tree decorations.
Learn More About Christmas Decorations
For more information about Christmas tree decorating, check out these articles from our Resource Center.