Decorating the Christmas tree with baubles is an enjoyable experience for many, even a time-honoured tradition for some. Whether you're just starting or simply looking to add new pieces to your collection, this guide will show you the different types of baubles as well as a few themes you can try this year.
The History of Christmas Baubles
Glass baubles originated from Germany, much like the beloved Christmas tree. Hans Greiner, a blown glass artisan in Lauscha, started manufacturing baubles which were then brought over to the U.S. by German immigrants in the 1800s. The retail company Woolworth's also started importing them, making baubles one of the most popular types of Christmas tree decorations we know today.
Types of Baubles
There are many different types of Christmas baubles and choosing which ones to get could be overwhelming. Below is a list of some of the most common baubles you'll find on the market.
Common Bauble Materials
From artisanal mouth-blown glass to fabrics such as felt and polyester, Christmas baubles are made from a range of materials. Here are the most common ones:
Glass – Glass baubles date back to the 18th century in Germany where Christmas trees and baubles originated. Artisans use a laborious process that entails heating a glass tube, inserting the end into a clay mould, and blowing the glass into the shape of the mould.
Mercury Glass – Also called silver glass, mercury glass is blown double-walled, then coated on the inside with a silvering solution, and then sealed with a plug. These are made from clear glass without any mercury or silver, making them perfectly safe to use as Christmas decorations.
Wood – These baubles can be as simple as a one-dimensional star or as intricate as forest creatures. They can be hand-carved or laser-cut and made from different types of wood. Wood baubles are versatile and complement a range of decorating themes like rustic farmhouse or enchanted woodland.
Metal – Whether flat or three-dimensional, these baubles add sparkle to any Christmas tree décor. Metal baubles are made from a host of materials such as iron, copper, or variants of alloys like steel. You can find pieces that feature different shapes and intricately designed with crystal beads.
Fabric – These baubles can be made from felt, burlap, wool, or any type of fabric. They're usually crafted by hand, giving them that charming, handmade appeal. Available in a wide variety of designs, fabric baubles add a wonderful texture to any Christmas tree display.
Capiz – Capiz shells are translucent and durable, making them great substitutes for glass. Capiz baubles include classic designs such as stars, angels, and bells. Aside from Christmas tree baubles, they're also used to make lampshades, lanterns, and other decorative objects.
Decorating Themes
Balsam Hill offers a wide assortment of Christmas bauble sets that you can mix and match to create countless themes. If you're looking for inspiration on how to decorate your Christmas tree this year, here are three ideas you can consider: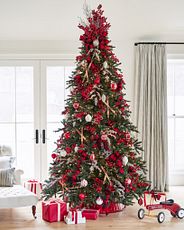 Classic Christmas
You can't go wrong with a classic Christmas theme. Green, red, and white are timeless colours that inspire nostalgia and a festive atmosphere.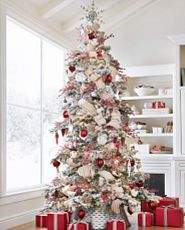 Wooded Bliss
An enchanting woodland motif is a dreamy way to decorate your Christmas tree. Start with a frosted tree to create that snowy forest look.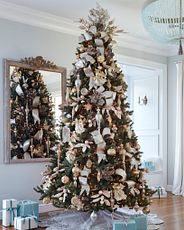 Precious Metals
Elevate your Christmas tree décor with a metallic theme. This motif features a mix of baubles in varied gold, silver, and platinum tones.
Keep your baubles organized and protected by investing in specialty storage bags. These will keep your delicate and precious baubles away from dust and damage. Balsam Hill's Christmas Bauble Storage Box is made from polyester and includes a lid and 3 drawer-style trays with dividers. We also offer rolling bauble chests made from durable 600D polyester fabric with padded canvas. They include removable trays with handles and acid-free, fabric-lined dividers and a front storage pocket.
Tips for Decorating With Baubles
Ever wondered how professionals decorate their trees to make them look perfect? Here are some tips from our experts at Balsam Hill:
Categorize Your Baubles
Organize your baubles in containers before hanging them on the tree. This will make the process easier since you won't have to rummage through boxes looking for a specific bauble. You can group them according to colour, size, shape, materials, or theme.
Hang Baubles Last
Baubles should go last to avoid bumping and breaking them as you decorate. We recommend that ribbons go first, especially if you need to anchor them deeper into the branches. If you're stringing your lights on the tree, make sure to do that before adding your ribbons.
Layer Your Baubles
Combine large and small baubles to achieve a layered look. Start with the larger ones and tuck them deeper into the foliage to add depth, then hang the smaller ones on the tips of the branches to create a draping effect. The more intricate baubles should also be displayed on the tips so they're more visible from any angle.
Determine How Many Baubles You Need
The number of baubles you have to use depends on the size and shape of your Christmas tree, as well as your style preference. Wondering how many baubles you need for a 6-foot tree? We recommend starting with 70 pieces for light coverage and 105 pieces for heavy coverage.
Frequently Asked Questions
Here are the answers to commonly asked questions about Christmas baubles.
What Is the Most Popular Christmas Bauble?

Angels and stars are always popular, whether as a bauble or tree topper. Classic Christmas balls also never go out of style.

What Are the Different Christmas Bauble Shapes?

Christmas baubles come in a variety of shapes including balls, onions, teardrops, finials, stars, angels, snowflakes, and more.

How Do You Pick Christmas Baubles?

Choosing Christmas baubles depends on your personal style and preference. Start with a theme and build out your ideas from there. For example, a winter wonderland motif would look great with white and red elements, snowflake accents, and faux frozen red berries.

How Big Should My Baubles Be?

Bauble sizes can range from mini, standard, and jumbo. Mini baubles are usually 2 inches in diameter, while standard baubles can range from 2.5 to 3 inches. On the other hand, jumbo baubles can measure anywhere from 6 to 10 inches in diameter or larger. Mini baubles are great for smaller tabletop trees. Use standard-sized ones if you like everything to look uniform or mix them with jumbo baubles to add visual interest.

How Do I Customize Baubles?

If you're into arts and crafts, customizing baubles is a wonderful way to make them more personalized. Start with plain ball or star baubles and decorate them with various materials like glitter and sequins. You can also paint them in your favourite colours using watercolour or craft paint.
We hope this guide helped you learn more about Christmas baubles and inspired you how to decorate your tree with them. Click the button below to see our full collection.