Christmas bauble makers in Europe have long been known to produce some of the most beautiful baubles on the market. Rich in history and vibrant in colour, European glass baubles add elegance and old-world beauty to the season. In this article, we'll share the history behind these heirloom-quality pieces as well as a list of the best ones in our collection.
The Origins of Glass Baubles
The first written record of glass Christmas tree balls dates back to 1848. Glass baubles were first made in Lauscha, Germany. Production began as a cottage industry, with workshops typically attached to homes. Whole families were involved in the work, the men in charge of glass blowing, and women embellishing the baubles with silver. Children did their part as well, helping out with painting and finishing.
Initially, the baubles were all blown without the use of a mould, in a "freehand" style. When the popularity of these fragile beauties grew, artisans developed moulds to meet the increased demand. The laborious process entailed heating a glass tube, inserting the end into a clay mould, and blowing the glass into the shape of the mould.
Eventually, the rest of Germany recognized the treasures they had in the Lauscha glass baubles, and the decorative pieces were exported to other parts of the country and later, to the rest of Europe. The artisanal baubles were originally brought to America by F.W. Woolworth after he discovered them on a trip to Germany. Woolworth began importing and selling European glass baubles in 1880.
Today, the bulk of the baubles sold in the global market are made from plastic which, while still beautiful, is a far cry from the works of art that European glass baubles represent. These hand-blown Christmas baubles are still made using techniques passed down through generations and reflect a level of artistry that mass-produced décor cannot match.
Balsam Hill's European-Inspired Glass Baubles
Our collection includes Poland Christmas baubles and European-inspired pieces that can be displayed on their own or combined with other sets to create a dynamic display. Here are some of them: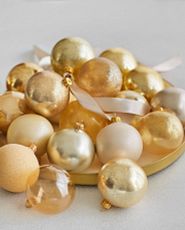 BH Essentials Tonal Baubles
Featuring intricate detailing decorated by hand, these Poland glass baubles come in various shades and finishes. Use them on their own or combine them with your existing baubles to add depth and interest to your Christmas tree décor.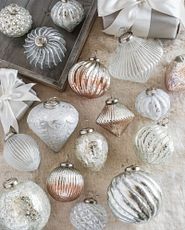 French Country Baubles
Inspired by European artisanal glass baubles, our French Country collection highlights the subtlety and sophistication of Parisian design. Each bauble is handmade from mercury glass and comes in various finishes to add depth and texture to your Christmas tree.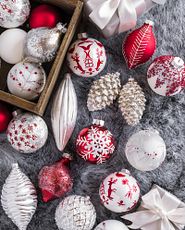 Nordic Frost Baubles
Featuring a variety of shapes and textures, the Nordic Frost collection is a nod to the understated elegance of Scandinavian design. These European-inspired handmade glass baubles come in white, silver, and red hues that add festive pops of colour to your Christmas décor.
Frequently Asked Questions
Below are the answers to some of the most common questions about glass baubles.
How Are Glass Baubles Made?

Glass baubles are made through glassblowing, a process where molten glass is shaped, coloured, and cooled to create beautiful and intricate designs. These artisanal baubles are often sentimental and associated with traditions such as decorating Christmas trees and collecting heirlooms.

What Are the Traditions Behind Glass Baubles?

The tradition of glass baubles originated in Germany during the 18th century. German glassblowers and artisans started creating intricate glass decorations, including pieces shaped like animals, nuts, and fruits. These glass baubles were often hung on the branches of trees during the Christmas season.

How Do You Care for Glass Baubles?

Glass baubles should be handled with care and kept in a padded storage bag when not in use. Avoid dropping or knocking them against hard surfaces, as they're fragile and can break. To clean them, use a soft cloth to gently wipe away any dust or dirt.
A proud testament to European craftsmanship, our elegant baubles add style, colour, and personality to any Christmas display. Click the button below to see our full collection of glass baubles.
Learn More About Christmas Baubles
Check out these articles for more guides and tips on decorating with Christmas baubles: