Christmas garlands and wreaths are versatile pieces of décor you can use throughout your home. They instantly add warmth and cheer to any space such as doors, mantels, and staircases.
In this video, designer Jennifer Lutz demonstrates how easy it is to decorate Christmas greenery. Watch how she transforms our BH Fraser Fir® Garland and Wreath into three different looks and read on for our step-by-step instructions.
Before Getting Started: Fluff Your Artificial Christmas Wreaths and Garlands
Before styling, take time to fluff artificial greenery to get the volume and fullness you want. Make them look their best with these quick tips:
Place your wreath or garland on a flat surface. When fluffing a garland, make sure to straighten out its spine.

Hold the foliage in place using one hand. With your other hand, individually spread branch tips up and out away from the frame. Begin from the bottom tips and work your way up.
Temporarily hang each item on a vertical surface within easy reach, such as a bannister. This makes it easier to spot any gaps and adjust tips until you get the shape you want. When you're done fluffing, your greenery is ready for display.
Cosy Cabin Christmas Theme
Set the scene for a warm and cosy retreat with this decorating theme. Get the look with layers of textured ribbon and natural elements like antlers and pinecones.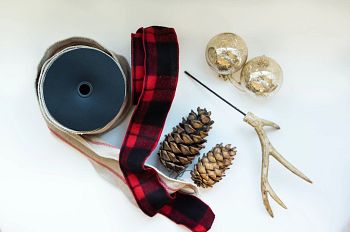 You will need:
Garland
Wreath
Mercury glass baubles
Two types of wired ribbon (4.5-inch and 2.5-inch wide)
Large pinecones
Faux antler picks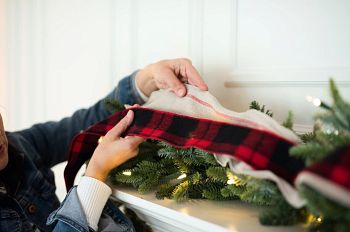 Step 1: Layer two sizes of ribbon with complementary colours. For this look, Jennifer paired a striped burlap ribbon with a plaid ribbon.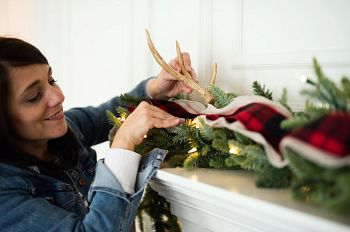 Step 2: Tuck the ribbons into the garland every 8 to 12 inches.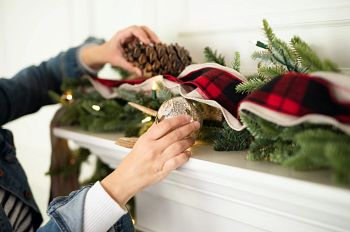 Step 3: Add your garland décor. Start with the antler picks, followed by the mercury glass baubles, and pinecones.
Insider's Tip
The wired branches of your greenery are great for holding your ribbons and baubles in place.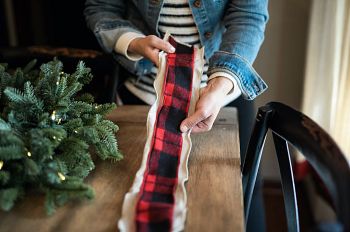 Step 1: Use the same ribbons to create a bow for the wreath.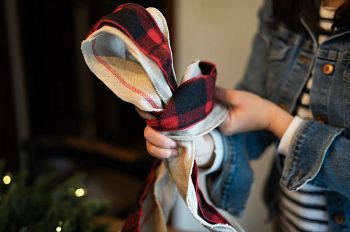 Step 2: Make one loop and twist the ribbon so the top layer faces outward.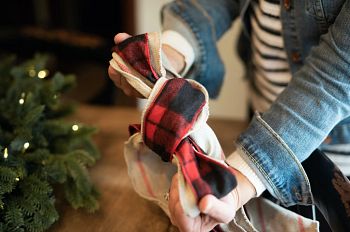 Step 3: Wrap the ribbon around your thumb from front to back and create a hole to bring another loop through.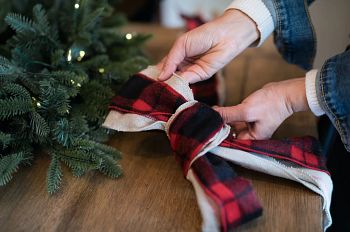 Step 4: After creating the loops, pull out the sides and adjust for a full, balanced look.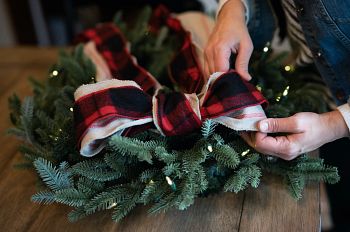 Step 5: Tuck the tails of the ribbons in and out along the entire wreath. Secure the bow using floral wire or use the wreath's wired branches.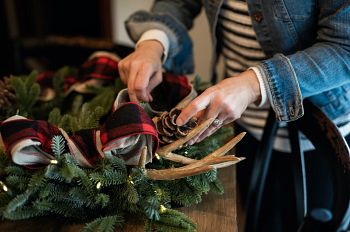 Step 6: Add antler picks and pinecones to match the garland.
Floral Christmas Theme
Create a charming look with oversized florals, sparkling picks, and plush velvets and plaids. This magnolia wreath and garland combination accented with rich colours, bold textures, and a bit of shimmer makes a luxurious backdrop for your festivities.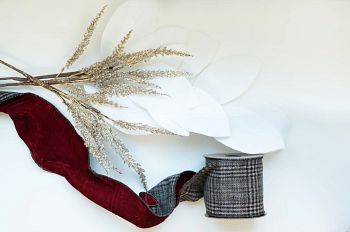 You will need:
Garland
Wreath
Oversized white magnolia branch picks
Metallic plume branch picks
4-inch wired velvet and plaid ribbon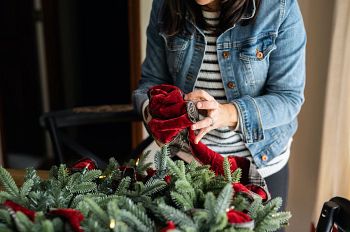 Step 1: Tuck the ribbon clockwise along your wreath. Use the branches to keep the ribbon in place.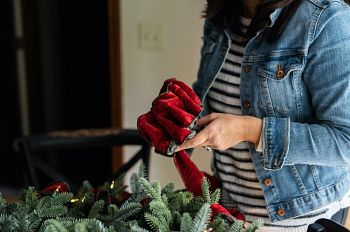 Step 2: Create a rosette bow using the same ribbon. Make five large loops and arrange them to look like a flower.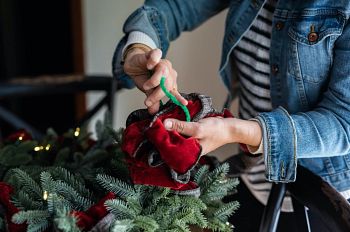 Step 3: Secure the base of the bow with a green pipe cleaner or floral wire. Pull the ribbon apart and fluff for a fuller look.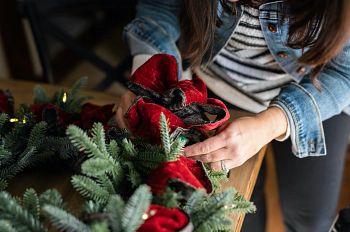 Step 4: Fix the bow onto the wreath using floral wire or the wired foliage.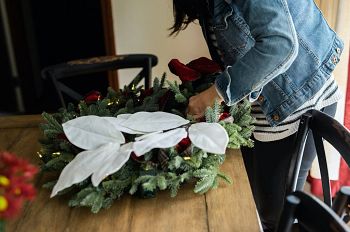 Step 5: Now that you have your ribbon wreath, place the oversized magnolia pick near the bow.
Step 6: Lastly, add metallic plume picks throughout the wreath.
Insider's Tip
Wired Ribbons work best when decorating wreaths and garlands because they tuck well and retain their shape.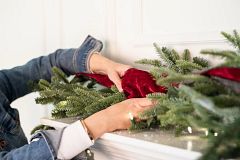 Step 1: Layer and tuck your ribbon along the branches of your garland.
Step 2: Place the larger picks first. For this look, start with the magnolia branch picks.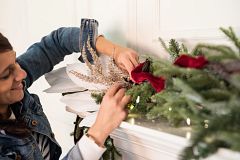 Step 3: Next, add the metallic plume branch picks.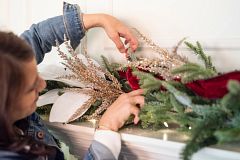 Step 4: Stand back and check if the décor looks balanced and evenly spaced. 
Classic Christmas Theme
Nothing says Christmas quite like traditional greens, snow-covered berries and pinecones, and festive glitter ribbon. Pulled together, they create a timeless display for many celebrations to come.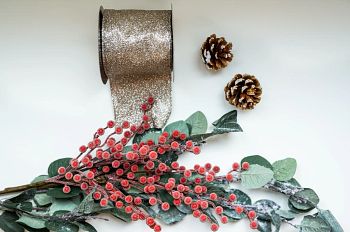 You will need:
Garland
Wreath
4-inch wired glitter ribbon
Frosted pinecones
Red berry picks
Eucalyptus picks
How To Create Scalloped Ribbons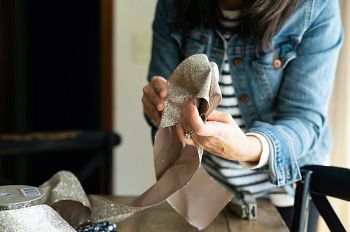 Step 1: Using two feet of ribbon, work from the centre and make three scallops or fans.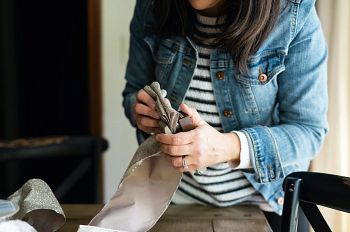 Step 2: Staple the fan at the bottom to create a looped bow.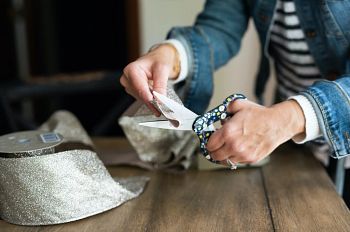 Step 3: Make tails with the ribbon and trim the edges into a V shape. Before adding the ribbon to your greenery, pull apart each scallop to fluff the bow.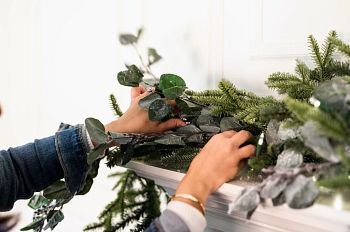 Step 1: Insert the snowy eucalyptus picks into the tips of your garland.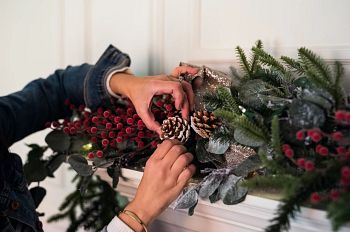 Step 2: Next, add the berry picks and pinecones.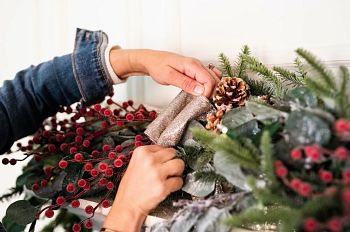 Step 3: Add the scalloped bows. Fluff the loops of the bows to create a full shape. Tuck the rest of the ribbon in and out of the greenery.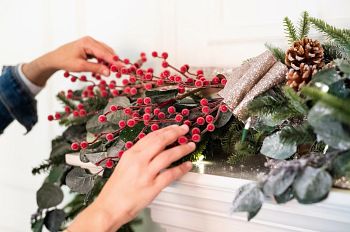 Step 4: Adjust decorations to make sure that everything is well-fluffed and balanced.
Insider's Tip
Spend a few moments arranging the eucalyptus and berry picks so that their branches fall naturally.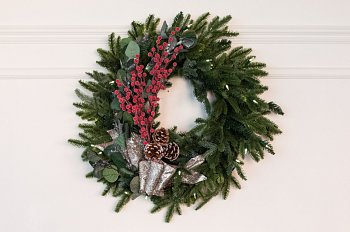 Coordinate your wreath with the garland. Layer the snowy eucalyptus, berries, pinecones, and scalloped ribbon to one side of the wreath.
Frequently Asked Questions
Here are the answers to some of the most common questions about Christmas wreaths and garlands:
What Can You Use To Decorate a Christmas Wreath and Garland?

Wired ribbons and decorative picks are best to use as garland and wreath decorations. They can be easily shaped and maneuvered through the greenery. You can also decorate with things that you have at home such as Christmas tree baubles, flower stems, leaves, and branches. Other essential supplies to help secure your decorations include green pipe cleaners, staples, floral wire, and floral tape.

Undecorated wreaths and garlands are beautiful on their own and look even more gorgeous when styled. If you want flexibility with your décor, these are the perfect canvases for any decorating theme.

How Do I Hang a Christmas Wreath and Garland Without Damaging the Walls or Doors?

To hang wreaths and garlands without hammering in nails or drilling holes in your walls and doors, use adhesive hooks, ribbons, or craft wire. Read our guide to hanging greenery to learn more.

How Do I Clean and Maintain My Artificial Christmas Garland and Wreath?

Use a feather duster or hairdryer on a cool setting to gently blow away dust from the tips and decorations. Do this before packing the greenery for storage to ensure they're in good condition while stowed away.
We hope these do-it-yourself decorating ideas inspire you to express your creativity with your wreaths and garlands. Click the button below to see our full collection of Christmas greenery.