Complete your Christmas tree display with a beautiful tree topper. This serves as the perfect finishing touch to your festive centrepiece. With many available designs, you are sure to find one that fits your preferred theme or style. Learn how to choose, place, and secure the best Christmas tree topper for your home in this comprehensive guide.
WHAT ARE CHRISTMAS TREE TOPPERS?
CHRISTMAS TREE TOPPERS
are decorative accents placed on the topmost branch of a tree. They were first used in 18th century Germany, commonly in the form of the
Rauschgoldengel
—a shiny, golden foil angel. Eventually, they made their way to the tops of Christmas trees across the world and became available in designs like star tree toppers, patriotic flags, and more.
WHAT ARE THE TYPES OF CHRISTMAS TREE TOPPERS?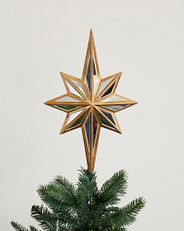 Stars
Christmas Tree Star Toppers vary from simple five-point designs to elaborate three-dimensional Moravian styles. Choose a design with glitter, beads, or sequins if you prefer more sparkle or a pre-lit star tree topper to complement your Christmas lights.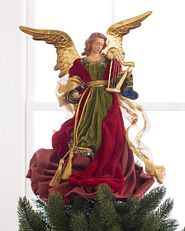 Figurines
The angel tree topper is an all-time favourite when it comes to traditional Christmas decorating. As an alternative, explore figurines of festive characters such as Father Christmas, Frosty the Snowman, or Rudolph the Red-Nosed Reindeer to give your tree a whimsical look.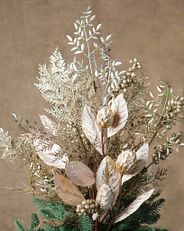 Bouquets
Bouquet tree toppers feature an assortment of faux flowers, leaves, and berries. These unique Christmas tree toppers add a charming finishing touch perfect for both classic and modern displays.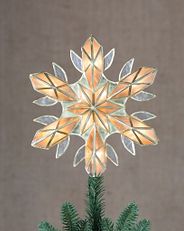 Others
Christmas tree toppers are also offered as starbursts, snowflakes, finials, and more. You may even use ribbons or bows as lightweight accents for your tree.
HOW DO I CHOOSE THE RIGHT CHRISTMAS TREE TOPPER?
SHAPE OF THE TREE
When choosing your Christmas tree topper, check that it complements the style and symmetry of your tree. A star or angel tree topper is a great match for a FULL-SHAPED CHRISTMAS TREE, while an elongated tree topper suits the slender profile of a SLIM tree.
HEIGHT OF THE TREE
Measure the clearance between the top of your tree and the ceiling to identify the size of tree topper it can accommodate. As a rule of thumb, it's best to leave at least 6 inches of space between the ceiling and the top of your tree topper. Make sure to account for any additional height that a tree stand may add. All Balsam Hill® Christmas trees are measured from the stand to the top of the tree.
Here's a sample chart that shows you the recommended tree topper size for different tree heights if you have a standard 9-foot ceiling.
| Tree Height | Tree Topper Size |
| --- | --- |
| 4 – 5.5 feet | 5 inches tall by 6 inches wide |
| 6 – 6.5 feet | 7 inches tall by 5 inches wide |
| 7 – 7.5 feet | 4 inches tall by 4 inches wide |
WEIGHT OF THE TREE TOPPER
Christmas tree toppers made of lightweight materials like paper, fabric, plastic, or fibre composite are ideal for most trees. Heavier toppers—such as those made of glass—may topple over if unsupported. To secure your tree topper, use fastening tools like zip ties or our TREE TOPPER EXTENSION SET.
INSIDER'S TIP
Try placing the topper in an upright position on the palm of your hand. If it begins to tilt within three seconds, it's best to use additional support.
The Theme
As the crowning accent of your display, the Christmas tree topper should match your overall decorating theme. For a classic look, opt for a traditional star or angel tree topper in red, green, or gold. Minimalist star tree toppers go well with contemporary themes, as do starburst and snowflake toppers in muted hues. If your style is more rustic, consider a bow or Christmas bouquet tree topper for a relaxed yet beautiful display.
HOW DO I ANCHOR A CHRISTMAS TREE TOPPER?
Now that you've chosen your topper, it's time to add the finishing touch to your Christmas tree. Here are some tips on how to install your tree topper depending on its base:
CHRISTMAS TREE TOPPERS WITH A POLE STAND
Many of our Balsam Hill Christmas tree toppers feature a sturdy pole stand with eyelets and zip ties. Simply insert the pole into the top of your tree and align it with the central branch. Thread a zip tie through each eyelet and wrap around the trunk to keep your topper in place.
CHRISTMAS TREE TOPPERS WITH A CONICAL BASE
Bend one of the top branches and carefully fit the cone over it. If needed, adjust the surrounding branches to support the base.
CHRISTMAS TREE TOPPERS WITH A SPRING OR SPIRAL BASE
Insert the top branch into the coil and secure with floral tape around the spring. Choose tape in a similar colour to your tree branches to help conceal it.
BOW OR RIBBON TREE TOPPERS
Bows and ribbons are the easiest to attach to a Christmas tree since they are lightweight. Go for wired pieces that keep their shape and use pipe cleaners for added support.
PRE-LIT CHRISTMAS TREE TOPPERS
Many high-quality PRE-LIT CHRISTMAS TREES feature a female electrical plug at the top where you can easily connect your tree topper. Simply mount your topper in place and plug it in.
INSIDER'S TIP
Secure heavy tree toppers using fasteners, such as Balsam Hill's
CHRISTMAS TREE TOPPER EXTENSION SET
. It includes a thick gauge metal rod, colour-coordinating branch tips for extra fill, and plastic zip ties.
WHAT ARE COMMON SAFETY TIPS FOR INSTALLING CHRISTMAS TREE TOPPERS?
Use a stable stepladder to reach the top of the tree.
Ask a friend or family member to keep the tree steady as you fix the topper into place.
Consider the weight of the topper before attaching it to your tree and prepare tools to secure it.
Keep fragile decorations, such as glass or crystal toppers, out of children's reach. These items may cause injuries if shattered or broken.
For pre-lit tree toppers, make sure that the wires and plugs are working properly. Always check the connections for loose wires and inspect for any burnt out or cracked bulbs before plugging into an outlet.
We hope this guide helped you choose the best Christmas tree topper for your festive display. If you have any questions, please reach out to our Customer Service team HERE.
LEARN MORE
For more Christmas decorating tips and ideas, visit the links below: