Christmas baubles come in all shapes and sizes – globes, finials, icicles, and more. While you can mix and match them, certain baubles complement your tree better than others. In this guide, we share the best Christmas baubles according to different tree types.
Full Christmas Trees
Full-shaped trees can support heavy baubles and full coverage designs, so you have more options. To add depth and dimension to your display, use baubles in varying shapes and hues.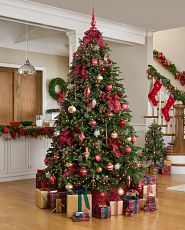 Timeless Elegance
Tree décor such as balls and finials work great against dense foliage without looking too crowded. Add movement with glittered ribbons in a waterfall design, then wrap a faux fur tree skirt at the bottom to tie up the motif.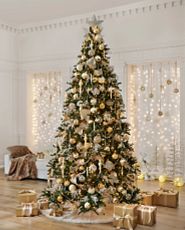 Vintage Glam
1920s-themed baubles feature metallic colours and intricate patterns that look stunning on a full tree. Use Christmas baubles such as dangling crystal baubles, gold balls, and beaded garlands for an opulent display.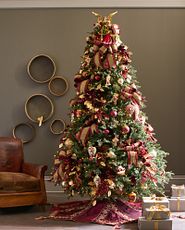 Classic Christmas
Red and gold baubles on a full-shaped tree bring back nostalgic Christmas memories. The abundant foliage gives plenty of surface area to showcase heirloom trimmings. Crown it with an angel topper to complete the look.
Slim Christmas Trees
Slim trees are great for highlighting baubles in a focused way. If you're short on space or simply prefer slender evergreens, try these Christmas tree decorating ideas: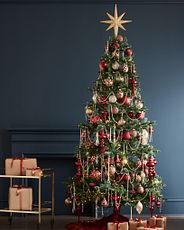 Brilliant Bordeaux
Bauble sets with assorted textures and colours work well on a slim tree. The various shapes add visual interest, while deep shades of burgundy and gold present a twist to classic Christmas hues.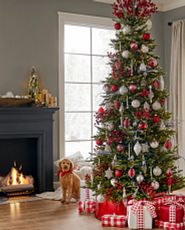 Nordic Frost
Take inspiration from Scandinavian design and decorate your tree with balls, finials, and teardrops in white, silver, and red hues. The colour palette complements the green foliage, while snowflake patterns and crystalized accents add charm.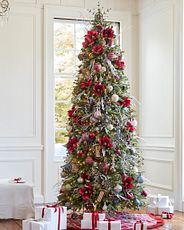 Festive Farmhouse
Nature-inspired materials such as wood and fabric are perfect for the rustic charm of a slender tree. Create a cosy countryside look with miniature sledges and ice skates, vintage sleigh bells, wooden villages, and fabric reindeer, then add flower picks in between branches.
Sparse Christmas Trees
Large baubles go well on a sparse evergreen. When choosing baubles, make sure they're big enough to create an impact but not too big to overwhelm the tree.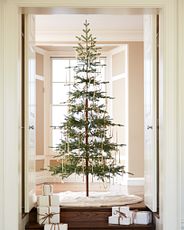 Icy Winter
Icicles, teardrops, and finials are perfect for sparse trees with wide gaps between branches. Decorated with glitter and pearlescent beads to make Christmas trees sparkle when they catch the light. Pair them with crystal garlands for a sophisticated finish.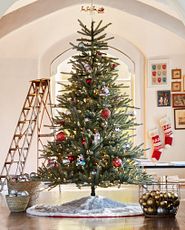 Timeless Christmas
Classic Christmas decorations also look great on a sparse tree. Mix and match globes with figurine baubles such as Santa, angels, and sledges. You can keep it minimal or go heavy with coverage if you want a fuller look.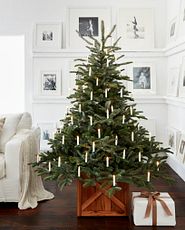 Candlelit Elegance
Keep it simple yet elegant with just candles on your Christmas tree. These clip-on candles bring the magic of candlelit trees along with the convenience and safety of LED technology.
Tabletop Christmas Trees
Small baubles make for eye-catching details on tabletop trees. Use different shapes to create dimension and symmetry, keeping coverage minimal to avoid crowding the tree.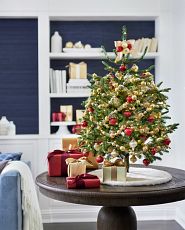 Mini Merry Christmas
Tiny baubles add dimension and make a tabletop evergreen appear bigger. Use mini baubles in different shapes to a festive touch to your small Christmas tree. For convenience, use a pre-lit tree to instantly brighten up any space.
Frosted Christmas Trees
Certain baubles enhance the snowy look of frosted trees. Clear baubles, metallic pieces, and natural accents all work well on this type of foliage, so mix and match them to create visual interest.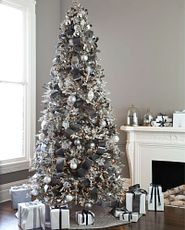 Crystal Glass
Glass teardrops, balls, and finials in silver hues are ideal for a modern winter wonderland theme. The varied shapes and sizes create a dynamic display while adding icy elegance to your frosted tree.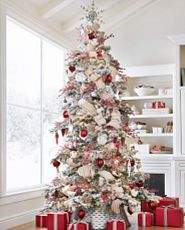 Alpine Grove
A frosted tree is perfect for creating a wintry woodland theme. Pinecones, acorns, willow balls, bird's nests, and animal baubles add a natural touch, while red Christmas balls and finials stand out against the snowy backdrop.
Pre-Lit Christmas Trees
Accents that sparkle or shine make great baubles for pre-lit Christmas trees. Like a prism, they reflect the glow coming from the lights, creating a delightful effect. Here are some Christmas bauble ideas to try: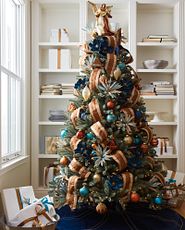 Modern Metallics
Metallic baubles look stunning on pre-lit Christmas trees, especially when the lights are on. Try a combination of navy, copper, and turquoise baubles for a modern take on your Christmas tree décor.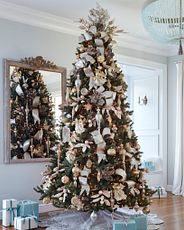 Silver and Gold
Gold and silver balls and finials provide a modern contrast to the organic charm of a sparse evergreen. Complete the theme with fairy light strings to add extra shimmer. For unexpected pops of colour, add blue, purple, or pink baubles.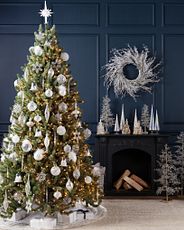 Winter White
Glass baubles with a shimmery finish go well with the glow of Christmas lights. Frosted and glittery accents complement a winter theme while glistening icicles give your tree a magical feel.
Frequently Asked Questions
Below we answer some of your questions about Christmas trees and baubles.
What Are the Types of Christmas Trees and Their Advantages?

Full trees have more dense foliage so they can support more baubles, while slim and sparse trees call for a more minimalistic design. Tabletop trees may be the most versatile as they can look good in any space. Meanwhile, pre-lit and frosted trees make decorating easier.

How Do You Choose Baubles for Christmas Trees?

Consider the shape and size of your tree when decorating for Christmas. Full trees can support heavy coverage, so go for more pieces. Meanwhile, slim and sparse trees are perfect backdrops for minimalistic designs and elongated baubles. For tabletop trees, it's best to use mini baubles to avoid overcrowding your design.

What Is the Most Popular Bauble on a Christmas Tree?

Christmas balls are the most common tree baubles, but icicles, finials, and novelty pieces have gained popularity over the years. Decorated Christmas trees can have a combination of baubles with various accents and textures.
Learn More About Christmas Baubles
Read these for more Christmas tree decorating ideas and guides. Read these next: