At Balsam Hill®, we design artificial Christmas trees that cater to your needs and preferences. Whether it's a realistic Christmas tree that resembles your favourite evergreen or a traditional one that combines quality and budget, we have you covered. Find what style is best for you in this guide to foliage types and realism.
NEEDLE TYPE
The first artificial Christmas trees featured papery polyvinyl chloride (PVC) needles. After some time, polyethylene (PE) trees gained popularity as a more lifelike alternative. Learn more about the two types below.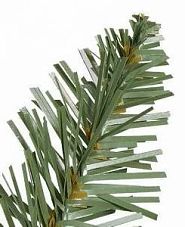 CLASSIC NEEDLES
Classic needles are made from flat PVC strips cut to resemble tree foliage.

Pros:

Soft, flexible tips with a traditional artificial Christmas tree look
More affordable
Cons: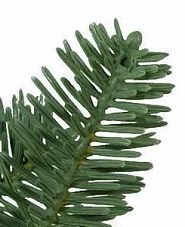 TRUE NEEDLE®
Created by Balsam Hill, these injection-moulded PE needles mimic the structure, texture, and colour variations of natural evergreens.

Pros:

Recreates the dimension and detail of real tree branches
More durable and long-lasting than PVC
Cons:
Costs more than PVC Christmas trees
LEVELS OF REALISM
Most artificial trees feature a combination of PVC and PE needles—the more lifelike the tree, the higher the PE count. Balsam Hill Christmas trees are categorised into three levels of realism: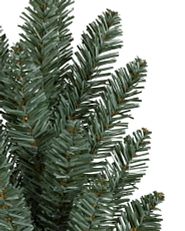 TRADITIONAL CHRISTMAS TREES
Our most cost-effective trees feature 100% Classic Needle (PVC) foliage.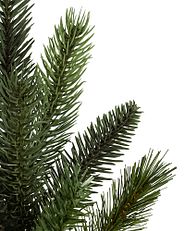 REALISTIC CHRISTMAS TREES
With up to 65% True Needle (PE) foliage mixed with Classic Needle (PVC), these trees strike the right balance between realism and budget.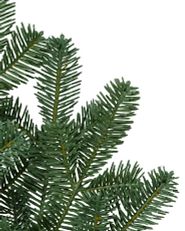 MOST REALISTIC CHRISTMAS TREES
These have more than 65% True Needle (PE) foliage for outstanding realism, with Classic Needles (PVC) near the trunk for added fullness.
TREE SPECIES
We use real branch clippings as our guide in crafting highly realistic Christmas trees that remind you of your favourite tree species.
FIR ARTIFICIAL CHRISTMAS TREE
Fir tree branches grow densely, concealing its trunk. Flat, flexible needles sprout singly from the stem and feature blunt ends. They grow in a spiral pattern up to the tip of each branch, giving fir trees a lush appearance.
Ideal for: Those who prefer fewer baubles on their tree
SPRUCE ARTIFICIAL CHRISTMAS TREE
A spruce tree has rough branches and needles that sprout individually from the stems. Unlike firs, spruce needles have pointed tips and four sides, which make them easy to roll between your fingers.
Ideal for: Those who like the classic full tree shape and have heavier baubles
PINE ARTIFICIAL CHRISTMAS TREE
Pine trees have sparser branches around the trunk. Soft, long needles are attached to the stem in clusters of two, three, or five.
Ideal for: Those who want to showcase more Christmas tree decorations
COLOUR
Like real trees, Balsam Hill trees come in different shades of green depending on the tree species. We also offer FROSTED and WHITE TREES to suit special Christmas decorating themes.
GREEN ARTIFICIAL CHRISTMAS TREE
Our best-selling green Christmas trees take after the varied hues of favourite evergreens. For instance, the

 
SILVERADO SLIM
 

has medium green tips, while the

 
SWISS MOUNTAIN PINE
 

has a combination of dark and light green foliage. Some trees are multi-toned, like the

 
BH FRASER FIR®
 

with dark green tips and silver undersides and the

 
ROYAL BLUE SPRUCE®
 

with grey-green needles.
DECORATING TIP
Explore
Christmas decorating themes
such as traditional red, green, and gold, modern Scandinavian, and rustic farmhouse with classic green trees as your canvas.
FROSTED ARTIFICIAL CHRISTMAS TREE
Inspired by the wintry outdoors, our frosted Christmas trees are flocked with light layers of faux snow. They feature the same Classic Needle and True Needle foliage as the rest of our trees.
DECORATING TIP
Create a cosy winter scene or an elegant French country display with snow-covered branches.
WHITE ARTIFICIAL CHRISTMAS TREE
An alternative to traditional green trees, white foliage is a versatile backdrop for unique baubles and playful themes. Decorate for year-round occasions such as Easter, birthday parties, sporting events, and more.
We hope this helps you find the Balsam Hill Christmas tree that's right for you. For any questions or concerns, please contact us

 
HERE
.
Want to see and feel the branches for yourself? Purchase our
BRANCH SAMPLE KIT
to compare actual branch clippings in the comfort of your home. Learn more
HERE
.
LEARN MORE
Here are other resources to help you find your perfect Christmas tree: